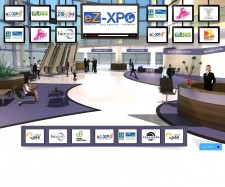 To celebrate this week's Mother's Day, eZ-Xpo will help all to spend more time with Mom and less travel and more time for family, as well as ongoing collaboration 24/7
San Francisco, CA, May 11, 2017 (Newswire.com) - eZ-Xpo, the global leader in Virtual Collaborative Expo Network and Virtual Expo Marketplace, today it announced that it will offer a special promotion on this coming Mother's Day.
"I also want to dedicate this special Mother's Day to my great Mom, Mrs. Wai-Hing Fok. She has inspired me by leading by example in helping people in need. Our solution will help empower all stakeholders to deliver great works through technology," Matt Fok, CEO and Founder of eZ-XPO
With this special offer, you get 3 months FREE (valued over $1,500) for Private Expo Network and over $2000 bonus as follows:
Private Expo Network with Bonus:
Up to three Virtual Expo Networks (i.e., Virtual Expo, Virtual Summit, Virtual Job Fair)
Up to 75 exhibitors
Private Expo Network Exchange for more organic traffic
FREE Bonuses with over $2,000 monthly value
1 FREE Virtual Expo (over $250 value)
SEO Booster (over $500 monthly value) - no more hard work
Instant Hot Lead Alert Matching (over $1,000 monthly value)
Social Hangout & Video Conferencing (over $500 value)
One more bonus: joint press release to all top media news ABC, NBC and Fox (value over $500). The total value is over $4,000.
Please call us at 1-888-718-5333 or call me at 415-533-8866 for any specific questions.
Please Sign up here now! https://goo.gl/fMTYWt
About eZ-Xpo
eZ-Xpo helps businesses connect, collaborate, and promote through networks of virtual expo marketplaces for constant lead generation. eZ-Xpo reinvents the trade show and lead generation industry with a revolutionary new approach to virtual events, virtual trade shows, private business networking marketplace. eZ-Xpo delivers the world's 1st all-in-1 virtual expo marketplace that seamlessly integrates with built-in marketing automation to follow up with every prospective customer during and after the event. eZ-Xpo goes beyond the traditional trade show and virtual event tools by harnessing the power of the Internet, proven best of class marketing automation technologies (i.e., SalesForce, Mailchimp) and making everything available to you in an integrated and intuitive online interface.
eZ-Xpo has been operating in Silicon Valley for over five years. eZ-Xpo has deployed the world's all-in-1 virtual expo marketplace, results-oriented virtual collaborative marketing solutions for different industries and industry leaders such as Wells Fargo, New York Life, MetaStock, Boeing, and Raytheon.
For more information on eZ-Xpo, please visit www.eZ-Xpo.com
Contact Information
eZ-Xpo
Matt Fok
Founder and CEO
mfok@eZ-Xpo.com
Phone: 1-888-718-5333
Source: eZ-Xpo PR
Share: