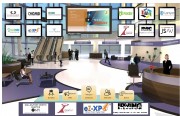 eZ-Xpo partners with MPI-DFW (Meeting Professionals International) to showcase the World's 1st Virtual Collaborative Expo Network for unlimited virtual expos all connected with Netflix model for ongoing and on-demand collaboration and unlimited qualified leads everyday.
San Francisco, CA , March 25, 2016 (Newswire.com) - ​eZ-Xpo, a global leader in All-in-1 Virtual Collaborative Network Solution, today announced eZ-Xpo is powering the Trade Show Technology Summit (TSTS). The TSTS is co-sponsored by The Dallas/Fort Worth chapter of the Meeting Professionals International (MPI) on March 24, 2016, at the Irving Convention Center.
This one-day annual premier showcase is dedicated to technology that will impact the event industry, meeting and tradeshow professionals over the next twelve months through helping industry professionals gain a better understanding of the technology that is available for planning events and tradeshows.
Technology is changing our meetings, our events, and our world! Technology impacts the entire event and meeting industry by providing new and innovative tools that can improve how we do business.

Tony Cummins, CMP, CMM, MPI D/FW Chapter President
"Technology is changing our meetings, our events, and our world! Technology impacts the entire event and meeting industry by providing new and innovative tools that can improve how we do business," Tony Cummins, CMP, CMM, MPI D/FW Chapter President notes. "This event not only educates - it will trigger conversations about further improvements."
TSTS provides an opportunity to receive industry certification hours for CEM and CMP, network with industry professionals and experience the latest solutions for event and exhibit technology solutions. Conference speakers consist of leaders in the event industry with specialization in technology; offering attendees' in-depth insight into the world of event tech, including the benefits and challenges.
Throughout the event, eZ-Xpo will showcase the latest Virtual Collaborative Network with software demonstration of the following key features:
• The World's 1st Responsive Virtual Collaborative Network – empower every organizer to host multiple virtual trade show, virtual job fair, virtual summit, and virtual collaborative space for ongoing collaboration, engagement, and lead generation.
• Meeting Scheduler – enable attendees and exhibitors to book meeting before trade show event.
• New Mobile Application (IOS/Android) – empower event planners and organizers to empower attendees and exhibitors connect before, during, and after the event
• Virtual Smart Agent – enables every exhibitor to engage live participants 24/7 with leading edge knowledge management technology.
"I am excited to partner with MPI-DFW and TSTS for this special event where we can educate and showcase the latest game changer solutions for event planners and Fortune 5000 corporate event organizers for higher ROI and better engagement with every stakeholder at every event, "Matt Fok, CEO of eZ-Xpo.
This one-day summit also includes a keynote luncheon panel discussion led by Emmy award-winning journalist, Scott Murray. Experts from meetings industry leaders David Dubois, President & CEO of the International Association of Exhibitions and Events (IAEE), and Michael Lynn, CMP, CMM, CEM, CME, CPC, CPECP Director Exhibitions, Events & Protocol at L-3 Communications Aerospace Systems Group, Exhibitors' Magazine Exhibitor of the Year, will discuss the Inside Scoop on Meetings Wi-Fi. Attendees will have the chance to earn clock hours towards various industry certifications, and network with their peers and industry suppliers at The Taste of Irving and see the Tech Wildcatters' Tech Showcase, their Shark Tank-style experience, with new startups pitching on the main stage.
"This event was created by event professionals for event professionals," explained Ann Windham, CTSM Founder of TS Tech Summit. "The reason for the event is great planners need great tools and continued education -TS Tech Summit provides both. Working with such great volunteers and wonderful support from the D/FW MPI Chapter ensures this event's success."
Anyone who is interested in participating in the Virtual Trade Show event should contact Ann Windham, CTSM, Founder of TS Tech Summit at ann@imaginexhibits.com or Matt Fok, CEO & Founder of eZ-XPO at mfok@eZ-Xpo.com.
Registration for the virtual trade shows available at http://virtualexpo247.com/tsts
About eZ-Xpo
eZ-Xpo is a world leader in Virtual Collaborative Network empowering businesses connect, collaborate, and promote through networks of virtual expo marketplaces for lead generation. eZ-Xpo reinvents the trade show and lead generation industry with a revolutionary new approach to virtual events, virtual trade shows, private business networking marketplace. eZ-Xpo delivers the world's 1st all-in-1 virtual expo marketplace that seamlessly integrates with built-in marketing automation to follow up with every prospective customer during and after the event.
eZ-Xpo has been operating in San Francisco Silicon Valley for over five years. eZ-Xpo has deployed the world's all-in-1 virtual expo marketplace, results-oriented virtual collaborative marketing solutions for different industries and industry leaders such as Wells Fargo, New York Life, MetaStock, Boeing, and Raytheon.
For more information on eZ-Xpo, please visit www.eZ-Xpo.com
Contact Information
eZ-Xpo
Matt Fok
Founder and CEO
mfok@eZ-Xpo.com
​http://www.eZ-Xpo.com
Phone: 1-888-718-5333
Share: