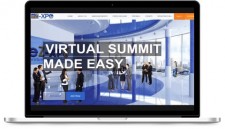 Leverage your virtual business ecosystem to out-promote and out-educate your competition
San Francisco, CA, April 1, 2017 (Newswire.com) - eZ-Xpo, the global leader in Virtual Collaborative Network is launching a series of walkthrough tour on how to set up virtual expo, virtual summit, and virtual conference in a matter of minutes.
In this short walk-through tutorial, you will learn how to easily and quickly set up a session track for your Virtual Summit or User Conference or Expo with multiple presenters:
The best way to compete against your competition is to out-educate and out-promote with your partner ecosystem leveraging the 2st Century Virtual Expo Network

Matt Fok, CEO & Founder of eZ-Xpo
How to Set Up a Virtual Event for Virtual Summit, User Conference or Virtual Expo
How to add a Session Track with Multiple Speakers
How to Integrate Your Session Track with Multiple Expos
To learn more about how you can set up a Virtual Summit with multiple speakers, please book a FREE consultation here.
About eZ-Xpo
eZ-Xpo is the world leader in Virtual Collaborative Network empowering businesses to connect, collaborate, and promote through networks of virtual expo marketplaces for lead generation and ongoing collaboration. eZ-Xpo transforms traditional event and trade show to a virtual collaborative profit center for daily qualified and massive traffic. eZ-Xpo delivers the world's 1st all-in-1 virtual expo marketplace that seamlessly integrates with built-in marketing automation to follow up with every prospective customer during and after the event.
eZ-Xpo has been operating in San Francisco Silicon Valley for over five years. eZ-Xpo has deployed the world's all-in-1 virtual expo marketplace, results-oriented virtual collaborative marketing solutions for different industries and industry leaders such as MPI, Wells Fargo, New York Life, MetaStock, Boeing, and Raytheon.
For more information on eZ-Xpo, please visit www.eZ-Xpo.com
Contact Information
eZ-Xpo
Matt Fok
Founder and CEO
mfok@eZ-Xpo.com
Phone: 1-888-718-5333
Source: eZ-Xpo PR
Share: