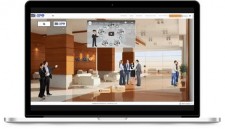 eZ-Xpo - AI Chatbot empowers marketers, trainers, and mentors to engage with attendees and every stakeholder with conversational dialog and supercharge every Virtual Event, Virtual Training/Summit, and Virtual Job Fair for massive daily traffic and leads and better customer loyalty.
SAN FRANCISCO, March 1, 2019 (Newswire.com) - eZ-Xpo, the global leader in Virtual Collaborative Network, announced eZ-Chat-AI with conversational engagement with attendees and exhibitors for better user experience and higher ROI.
According to the latest Gartner Report, over 25 percent of digital workers will use a virtual employee assistant (VEA) daily. By 2020, over 50 percent of medium to large enterprises will have deployed product chatbots.
eZ-Chat-AI powered by eZ-Xpo is specifically designed to empower marketers, trainers/mentors, and organizations to quickly engage with attendees, learners, and all stakeholders for virtual summit/expo, career fair, and virtual training.
eZ-Chat-AI can supercharge every virtual event and empower exhibitors and attendees with the following key features and benefits:
1. Virtual Assistant – Exhibitor and Subject-Matter Experts/Mentors can leverage AI-Chatbot to engage with attendees or clients with conversational dialog and insightful knowledge information.
2. Zero-time Matchmaking – eZ-Xpo – AI-Chatbot can quickly screen out qualified prospects without wasting anyone's time and feed the ideal hot leads to the exhibitor in minutes. It can be used for matching attendees and those looking for recommendations on services or products.
3. Crowd Draw – AI-Chatbot can be a cool attraction to all attendees. Robotics Tomorrow Magazine proclaimed recently that Japan has "AI Fever" as it welcomed 40,000 people to its first AI Expo.
"Artificial Intelligence is the game changer technology for every organization. With eZ-Chat AI, we can empower every stakeholder for trade show promotion, onboarding training as well as talent recruiting with zero-time matchmaking at the lowest costs. You don't have to wait once a year trade show, training or job fair because you can do it every day at eZ-Xpo!" said Matt Fok, Founder, and CEO of eZ-Xpo.
For a limited time, you can get the eZ - AI Chatbot features free ($500 monthly value) when you sign up a Private Expo Network account here.
About eZ-Xpo
eZ-Xpo is the global leader in Virtual Collaborative Network solution empowering businesses to connect, collaborate, and promote through networks of virtual event marketplaces for lead generation. eZ-Xpo reinvents the trade show and lead generation industry with a revolutionary new approach to virtual events, virtual trade shows, private business networking marketplace. eZ-Xpo delivers the world's 1st all-in-1 virtual expo marketplace that seamlessly integrates with built-in marketing automation to follow up with every prospective customer during and after the event.
eZ-Xpo has deployed the world's all-in-1 virtual expo network marketplace, results-oriented virtual collaborative marketing solutions for different industries and industry leaders such as MPI/DFW, Wells Fargo, MetaStock, Boeing, and Raytheon.
For more information on eZ-Xpo, please visit www.eZ-Xpo.com.
Contact Information
eZ-Xpo
Matt Fok
Founder and CEO
mfok@eZ-Xpo.com
Phone: 1-888-718-5333
Source: eZ-Xpo News
Share: