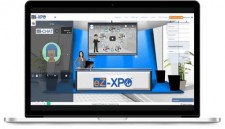 eZ-Chat empowers marketers, trainers, and mentors to host Virtual Networking Events, Virtual Training, Virtual Summit, Virtual Trade Fair, and Virtual Job Fair easily and quickly for massive daily traffic and leads and better customer loyalty.
SAN FRANCISCO, February 12, 2019 (Newswire.com) - eZ-Xpo, the global leader in virtual collaborative networks, announced eZ-Chat with just one click to engage with a private chat and group chat for better engaging and user experience.
According to a report by Zendesk, 92% of customers feel satisfied when they use the live chat feature during their buyer's journey when using a live chat feature, compared to other options such as voice (88%), email (85%), and even social media messaging (Facebook 84%, Twitter 77%).
eZ-Chat powered by eZ-Xpo is specifically designed to empower marketers, trainers/mentors, and organizations to easily host virtual summit/expo, trade fair, and virtual training. Organizer, exhibitor, and attendees can easily launch eZ-Chat in the Virtual booth, Auditorium, and Networking Lounge.
"The number one critical success factor for all virtual events is to be able to engage and have a quick chat with potential partners and customers in any networking events or trade fair/summits. Our new eZ-Chat with just one click to talk with video will make every virtual event richer and more fruitful. Most importantly, you can do it easily and quickly every day," said Matt Fok, founder, and CEO of eZ-Xpo.
For a limited time, get the eZ-Chat feature FREE ($500 monthly value). Please find out more by booking a meeting here.
Source: eZ-Xpo News
Share: