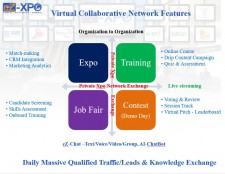 SAN FRANCISCO, February 25, 2020 (Newswire.com) - eZ-Xpo, the global leader in Virtual Collaborative Networks, announced the eZ-Biz247 solution to safeguard business operations, trade shows, conferences, and events against Coronavirus (COVID-19) or other disaster interruption for all organizations.
From phones to watches, planes to jeans, many trade show exhibitions, such as Mobile World Congress (MWC), have been canceled and delayed due to the coronavirus outbreak. To help address the current health crisis, eZ-Xpo combines their core pre-built proven solutions with best practices to solve both daily business operation needs as well as trade show and event challenges.
With the latest CDC warning and precaution for a potential pandemic in the U.S., every company needs to take immediate measures to safeguard its business operation. eZ-Biz247 is part of eZ-Xpo digital transformation initiatives to arm every organization to be productive and also fight against coronavirus (COVID-19) or any other disruption.
The eZ-Biz247 empowers companies to connect and collaborate with multiple departments, partners, and customers worldwide for optimal productivity and higher ROI:
Virtual Office – enables employees to host Virtual Offices to have a private or group meeting via webinar or video chat/group chat and discussion board. The Virtual Office feature will guarantee team members and partners 24/7 collaboration and engagement for maximum productivity.
Virtual Summit & Expo – enables companies to bring all customers and partners to host virtual customer success summits, emergency conference, and partner trade shows for lead generation and knowledge updates. Hosting a virtual expo would enable attendees, sponsors, and organizers to reduce costs and travel and still be able to participate virtually to avoid any health risks and daily traffic and leads.
Virtual Training – enables companies to host virtual training conferences to bring all subject-matter experts to deliver training online in real-time and on-demand with breakout rooms, discussion boards, skills assessment/quiz, and group chat.
"Not only can eZ-Biz247 help keep every stakeholder safe and healthy but also supercharge productivity without any interruption due to sudden city enclosures from any hazardous or virus outbreaks. Instead of maintaining the status quo with organization silos, eZ-Biz247 can connect all departments, partners, employees, and customers to collaborate and engage for higher productivity worldwide," said Matt Fok, CEO and Founder of eZ-Xpo.
For more detailed information about this special eZ-Biz247, please book a Free Consultation Here or email us at sales@eZ-Xpo.com.
About
eZ-Xpo
eZ-XPO delivers the World's 1st Virtual Collaborative Network transforming organizations silos to productive events and network opportunities. eZ-Xpo's all-in-1 virtual expo network has delivered virtual exhibitions, virtual job fairs, and virtual learning solutions for different industries and industry leaders such as MPI/DFW, Sawgrass Technologies, European Space Exploration Expo, America SBDC, Government Blockchain Association, sFoundation Startup Accelerator over the last five years.
For more information on eZ-Xpo, please visit www.eZ-Xpo.com
Contact Information
eZ-Xpo
Matt Fok
Founder and CEO
mfok@eZ-Xpo.com
http://www.eZ-Xpo.com
Phone: 1-888-718-5333
Source: eZ-Xpo PR
Share: