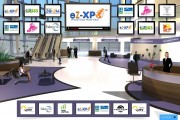 eZ-Xpo announced a strategic partnership with Home Doctor Magazine that aims to deliver a new virtual collaborative Home Doctor Expo and Trade Show Network Marketplace to connect all health professionals, health institutions for a complete integrated collaborative health care trade show exhibition.
San Francisco, CA, CA, February 14, 2015 (Newswire.com) - eZ-Xpo, the global leader in Virtual Collaborative Expo Network Marketplace, announced the world's 1st Virtual Personal Health Expo on March 9, 2015 with Collaborative Network Marketplace through strategic partnership with HOME DOCTOR Magazine in Nigeria.
The objective and vision of the Home Doctor Collaborative Expo Network Marketplace is to offer a global collaborative expo network for all health care stakeholders to connect, engage, promote, and learn through a collection of key virtual expo marketplaces and virtual training for maximum visibility and ROI. It will also help incubate long-term joint ventures and partnership for every stakeholder and provider for the health care industry through a live, and on-demand private showcase and forum.
According to the recent global report from McKinsey & Co., Nigeria is the largest economy in the Africa's region with 7.1% annual growth in the projected economy over $1.6 trillion. Lagos, capital of Nigeria, is one of the fastest growing city in Africa and the world. Lagos is the West Africa's leading commercial hub with the region's largest airports and seaports. Lagos generates 25% of national gross domestic product and its 20 million citizens account for 12% of Nigeria's population.
"We are excited to partner with eZ-XPO and eLearningZoom with a new game changer. The need to deploy a complete integrated collaborative marketplace for the Health Care industry to improve collaboration and engagement of all stakeholders in Nigeria and the world has never been greater. Attendees experience exciting and informative exhibits and chat online one-on-one with local and global health care offering products," said, Mr. O Farouk Solola, Publisher /Editor In Chief of Home Doctor Magazine in Nigeria.
"In light of the Ebola health crisis, we are excited to partner with Home Doctor Magazine as the thought leader in the health care industry to help collaborate with global health professionals to develop proactive personal health care solution for a brighter healthy future.
An intelligent, interconnected collaborative health care network ecosystem can revolutionize how we proactively prevent epidemic diseases with smart medicine, prevention, and remedies with global partnership and support from all stakeholders," said Matt Fok, CEO and Founder of eZ-XPO.
The Nigeria "Create Your Future – Virtual Personal Health Expo and Network " will include the following game-changing virtual collaborative expo network:
1. Virtual Personal Health Expo – Today's personal health is changing rapidly. It is critical to keep up with the latest personal health on a regular basis with the world's top professionals. A Personal Health Expo Marketplace will connect every stakeholder and partner to engage, educate, and promote new products/services and ideas. It will provide the channels that greatly help sustain every health care leader and professionals for growth and expansion.
2. Virtual Ebola Prevention Forum – The biggest news in Health is Ebola and this Health Expo has the potential to lead to a virtual face to face discussion of a Virtual Ebola Prevention Forum. Today's health care concerns require a new think-outside the box approach with thought leaders from around the world. A Virtual Health Forum connects every stakeholder and partner to engage, educate, and promote new products/services and ideas. It will greatly help nurture new innovation and ideas for growth and expansion.
3. Virtual Health Expo 2020 – Tomorrow's game changer health care company will have to be nimble and fast enough to adopt new technologies as their competitive advantages against their competitors. A Virtual Future Health Expo will revolutionize how every stakeholder can connect, collaborate, and promote all products and services worldwide on a daily basis, both on-demand and live through virtual conferencing, and virtual exhibition booth at a virtual trade show.

4. Virtual Social Learning Marketplace – With eLearningZoom All-in-1 Online Training Software Marketplace, learners can take both on-demand courses or live video conferencing 24/7. Instructor/experts can leverage on-demand courses as a complement to their physical classroom for ongoing collaboration and knowledge exchange. The eLearningZoom library consists of over 2000 on-demand courses (i.e., social media, SEO, career training, entrepreneurial training, and virtual trade show launch) enriching every member with a wealth of professional online and online learning repository. The Virtual Learning Marketplace focuses on entrepreneurial topics such as digital marketing, cloud computing, legal and business expertise – particularly around international trading.
For additional information on this Virtual HOME DOCTOR EXPO Network, please visit www. ezxpo.net/homedoctor.
To learn more about how you can participate in this exciting collaborative ecosystem, please contact Mr. O Farouk Solola, Publisher /Editor In Chief
Home Doctor ofsanda@gmail.com phone 08033419749,, , or our local technical support, Kehinde Oke at kpo@ultimatekonsultgroup.com or phone 08035172971 or
Matt Fok at mfok@ez-xpo.com.
Here is a short list of strategic partners and sponsors –
• Ivory Health Club
• Federal Ministry of Health Nigeria
• The Nigerian Medical Association
• eLearningZoom
• JobExpo365
• Ultimate Konsult
About HOME DOCTOR
HOME DOCTOR passionately focuses on PUBLIC HEALTH to educate the Nigerian Public and the international community at large on basic health related matters, provide basic information for promoting awareness about the causes and effect of diseases and appropriate intervention approaches to prevent poor health and importantly promote maximum WELLNESS.
HOME DOCTOR is the medium to reach Nigerians with all products that will give succor to their quest for good health, better living, prosperity and WELLNESS.
About eZ-Xpo
eZ-Xpo helps businesses connect, collaborate, and promote through networks of virtual expo marketplaces for a constant lead generation. eZ-Xpo reinvents the trade show and lead generation industry with a revolutionary new approach to virtual events, virtual trade shows, private business networking marketplace. eZ-Xpo delivers the world's 1st all-in-1 virtual expo marketplace that seamlessly integrates with built-in marketing automation to follow up with every prospective customer during and after the event. eZ-Xpo goes beyond the traditional trade show and virtual event tools by harnessing the power of the Internet, proven best of class marketing automation technologies (i.e., SalesForce, Mailchimp) and making everything available to you in an integrated and intuitive online interface.
eZ-Xpo has been operating in Silicon Valley for over five years. eZ-Xpo has deployed the world's all-in-1 virtual expo marketplace, results-oriented virtual collaborative marketing solutions for different industries and industry leaders such as Wells Fargo, New York Life, MetaStock, Boeing, and Raytheon.
For more information on eZ-Xpo, please visit www.eZ-Xpo.com

Contact Information
eZ-Xpo
Matt Fok
Founder and CEO
mfok@eZ-Xpo.com
Phone: 1-888-718-5333
Share: