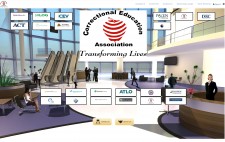 Get the Knowledge and Resources to Transform Life Virtually from Experts Around the World
SAN FRANCISCO, July 11, 2020 (Newswire.com) - ​​​eZ-Xpo, the global leader in All-in-1 Virtual Collaborative Networks, today announced it is powering the Correctional Education Association in the launch of its first Virtual Vendor Exhibition on Tuesday July 14, to July 16, 2020 from 11 a.m. to 5 p.m. EST.
eZ-Xpo will equip all academic, distance learning, and career training experts to showcase their latest innovative educational and career training solutions in a Virtual Exhibit Hall with Virtual Booths. Attendees will have an opportunity to engage with live video chats and presentations from exhibitors in the virtual booths. Also available are on-demand presentations in the Virtual Auditorium.
"We are excited to partner with eZ-Xpo to launch our first Virtual Vendor Exhibition. The Virtual Trade Show technology helps our stakeholders collaborate during COVID-19 and continue our mission to empower our members to provide transformational learning opportunities," says Dr. Susan Roberts, president of CEA's executive board.
"Despite the COVID-19 pandemic, we are excited to partner with CEA in taking a leadership role to host a Virtual Vendor Exhibition to provide all key stakeholders with tools to help transform lives. It also sets up a new game-changer framework and opens unlimited opportunities to all stakeholders for ongoing collaboration every day," Matt Fok, CEO of eZ-XPO.
To register for the CEA - Virtual Vendor Exp, please go to register FREE at https://ezxpo.net/ceanational/attendee_register
Here is a short list of sponsors participating in this Virtual Vendor Exhibition:
Ashland University
ATLO Software
Brainchild
Essential Education
JiST Career Solutions
New Readers Press
NCCER
Pace Learning
Reading Horizons
The Peace Education Foundation
Teknimedia Corporation
About Correctional Education Association (CEA)
Since 1930, CEA has provided leadership, direction, and services to correctional educators and institutional correctional education programs around the world. CEA has also been the only professional advocacy group for juvenile justice and adult correctional education to the private sector, political organizations, and social agencies in the United States.
Get more information at https://ceanational.org
About eZ-Xpo
eZ-Xpo is a world leader in providing Virtual Collaborative Networks that equip businesses to connect, collaborate, and promote through networks in the virtual expo marketplaces for lead generation. eZ-Xpo reinvents the trade show and lead generation industry with a revolutionary new approach to virtual events, virtual trade shows, and private business networking marketplaces. eZ-Xpo delivers the world's 1st all-in-1 virtual expo marketplace that seamlessly integrates with built-in marketing automation to follow up with every prospective customer during and after the event.
eZ-Xpo has been operating in the San Francisco, Silicon Valley, for over five years. eZ-Xpo has deployed the world's all-in-1 virtual expo marketplace, results-oriented virtual collaborative marketing solutions for different industries and industry leaders such as Wells Fargo, New York Life, MetaStock, Boeing, and Raytheon.
For more information on eZ-Xpo, please visit www.eZ-Xpo.com
Contact Information
eZ-Xpo​
Matt Fok
Founder and CEO
mfok@eZ-Xpo.com
Phone: 1-888-718-5333
Source: eZ-XPO Press
Share: